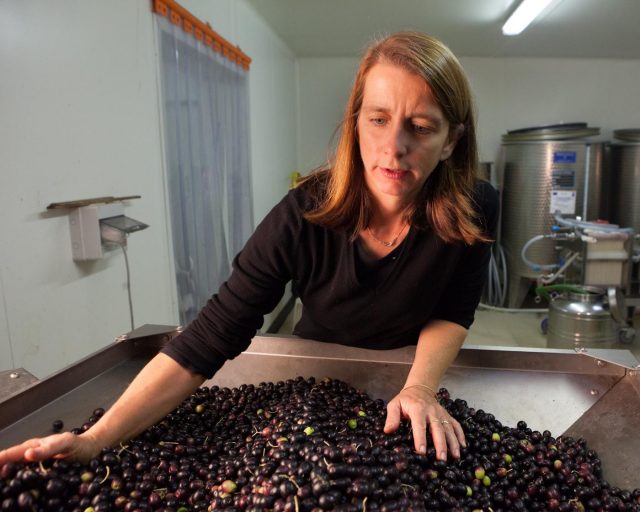 People who grow olives are lovely. People who produce olive oil are special because they make something that will make us healthier.
Sandrine Marfisi's dream of growing olives became a reality when she married and moved to Corsica back in 1996. Today this successful olive producer runs the family business, Domaine L'Asprellu, in the Nebbiu region in North Corsica, where they make 100% natural Corsican olive oil with olives from their estate. They press their extra virgin olive oil, L'Aliva Marina, to perfection in their very own mill without additives and filtration, and more importantly, it carries the prestigious AOP (Appellation d'Origine Protégée) label.
Here is her story.
The Domaine, situated about 25 kilometers from Bastia, is a relatively young Corsican plantation – the first trees were planted in 2003. The remaining one-third of the estate consists of grafted olive trees rescued after the two devastating fires in 1957 and 1985.
Managing the soil and protecting these two orchards is an ongoing affair.
"It started as a hobby," Sandrine said. Today, the family cultivates four species, each with its distinct quality and sometimes with fascinating historical backgrounds. The Ghjermana,
for example, a predominant cultivar, was introduced in Corsica during the Genoese occupation. The Corsican people had little choice at the time, the invaders made the rules.
Growers either had to grow the species or pay a hefty fine.
"It turned out to be a good investment though because today it is one of the hardiest cultivars and resists strong winds very well a boost for Corsican Olive Oil," noted Sandrine.
You couldn't ask for a more idyllic geographic location for Domaine L' Asprellu. All of the 1,100 trees on the 6-hectare estate face the sunny blue Mediterranean Sea. This means that Sandrine gets to harvest her olives a good three weeks or so before the other plantations. In Corsica, there are six varieties of olives and producers of Corsican olive oil aiming for the precious AOP label 'Oliu di Corsica' pick the fruit when they are already black or fully ripe.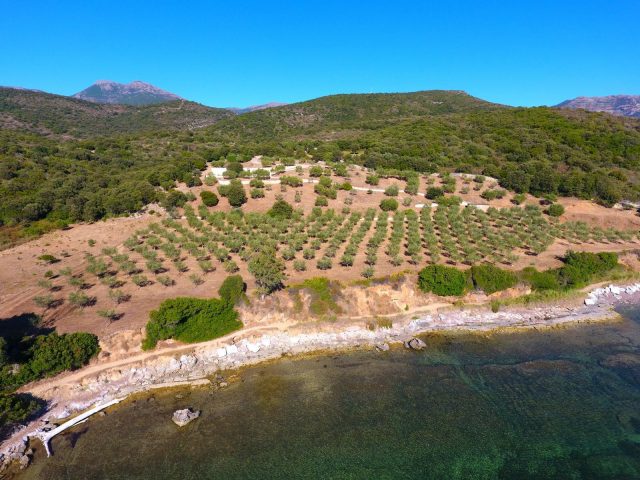 Being close to the sea has other advantages as Sandrine Marfisi pointed out:
"We plant our trees with lots of space between them, and thanks to the microclimate, gentle breeze, our trees don't suffer from any fungal infection. And more importantly, the air is pollution-free."
I asked Sandrine whether the sea air left a taste of iodine in the mouth. She explained that even though on the first contact, the fruit might have a salty feel, on processing, there is no hint of saltiness in the oil as the salt crystals are evacuated during processing. Olive oil contains no water.
On the flip side, there are disadvantages to being so close to the sea. Storms are sometimes a problem as heavy storms can damage the trees. The wind can cause havoc during the flowering period, especially for the Sabine variety, which is very sensitive to sea spray.
Harvesting starts as soon as the fruit is ready using an electric comb but without a vibrator to avoid damage to the tree.
Collecting the olives in the nets below is a fun affair. Listening to Sandrine, it's easy to see what she means. The watchful hard-working period is now over; the day the family has been waiting for is finally here. Harvesting is a time for rejoicing. Her husband Patrice and their two sons also take an active part working as diligently as possible. On a good day, they can collect around 1 ton of olives giving around 200 liters of Corsican Olive Oil.
Crushing takes place on the estate as soon as possible, everyone anxious to taste the new oil, eager to check the aroma of hay and almond that AOP status requires.
And the taste?
"Respecting the fruity mûr criteria for AOP, the oil should be mild, not too bitter, not too spicy but with a hint of pepper," Sandrine says.
Admittedly living in Corsica has many perks, but for running an olive oil business, there can be some frustrations.
Sandrine admits : "We have poor infrastructure, especially here in this part of the Nebbiu region and sometimes have to go without electricity. The other problem is getting Corsican olive oil out to mainland France. It takes time and can be expensive as well. Corsican Olive oil is not cheap because most of us have small farms requiring a lot of labor, and there's the competition to think about."
Sandrine talks with passion about Corsica, olive trees and Corsican Olive Oil, with such infectious courage and cheerfulness, I realize I could talk to her for ages. "Working sustainably on the lands which are ours and which produce our olives is the greatest mark of respect for our "Island of Beauty", for the land where we live and which we wish to bequeath to our children."
This Corsican Olive oil producer means every word.
L'article original : http://provencialprovence.blogspot.com/2020/08/portrait-of-corsican-olive-oil-producer.html