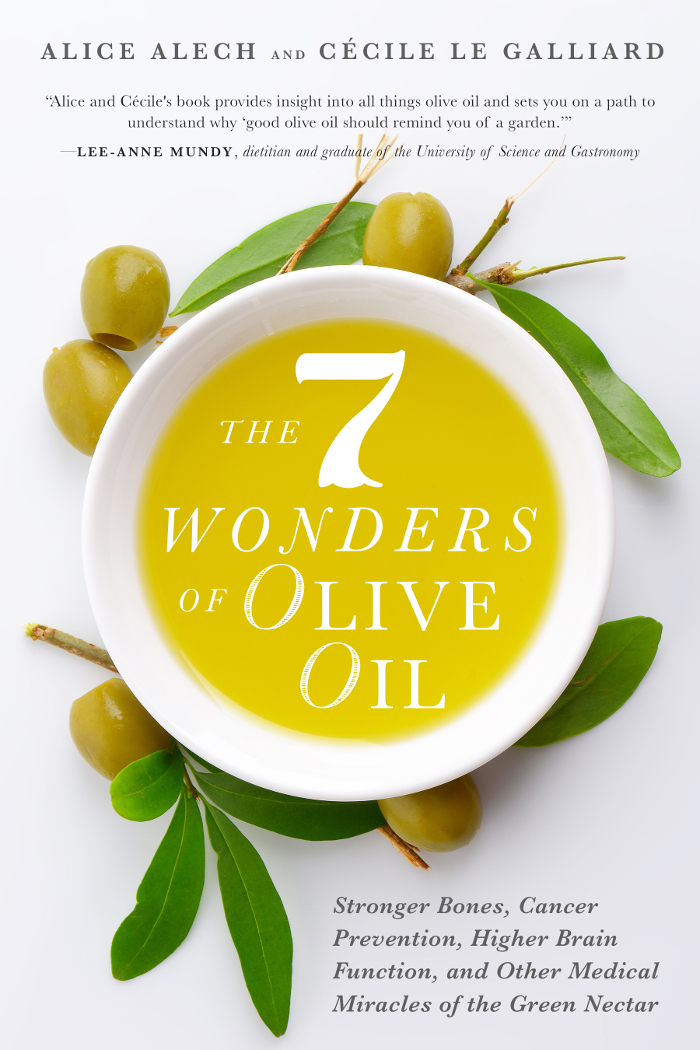 EN
Would you like to learn how to prevent cancer, rejuvenate skin, slow alzheimer's progression, and lower the risk of a stroke or heart attack?
In the groundbreaking new book The 7 Wonders of Olive Oil, olive oil experts Alice Alech and Cécile Le Galliard combine research from doctors, nutritionists, chefs, and more to explore what the green nectar can do for you.
The top 7 health benefits of using extra virgin olive oil
Anti-inflammation
Cancer prevention
Skin rejuvenation
Stronger bones
Alzheimer's disease prevention
Reduction in risk for diabetes
Stroke and heart attack prevention
How to identify the best quality of olive oil
How to store and cook olive oil (in a way that preserves its health qualities)
FR
Voulez-vous savoir quel est le moyen de prévenir certains types de cancer, comment rajeunir la peau, ralentir la progression de la maladie d'alzheimer et diminuer le risque de souffrir un accident vasculaire cérébral ou d'une crise cardiaque?
Dans le nouveau livre révolutionnaire The 7 Wonders of Olive Oil -Les 7 merveilles de l'huile d'olive-, Alice Alech et Cécile Le Galliard, combinent leurs expertises aux recherches de médecins, de nutritionnistes, de chefs, … pour explorer quels sont les bienfaits du nectar vert sur notre santé.
Les 7 bienfaits pour la santé de l'utilisation de l'huile d'olive vierge extra
Lutte contre l'inflammation
Prévention du cancer
Rajeunissement de la peau
Des os plus forts
Prévention de la maladie d'Alzheimer
Réduction du risque de diabète
Prévention des accidents vasculaires cérébraux et des crises cardiaques
Comment choisir la meilleure huile d'olive
Comment conserver, cuisiner, … l'huile d'olive pour qu'elle conserve toutes ses propriétés nutritionnelles et aromatiques.
ES
¿Quieres saber cómo prevenir el cáncer, la forma de rejuvenecer la piel, retrasar la progresión de la enfermedad de Alzheimer y reducir el riesgo de sufrir un derrame cerebral o un ataque al corazón?
En el nuevo libro revolucionario The 7 Wonders of Olive Oil -Las 7 maravillas del Aceite de Oliva-, Alice Alech y Cécile Le Galliard combinan sus conocimientos a investigaciones de profesores, médicos, nutricionistas, cocineros, … para explorar los beneficios del néctar verde en nuestra salud.
7 beneficios para la salud del uso de aceite de oliva virgen extra
Luchar contra la inflamación
Prevención del Cáncer
rejuvenecimiento de la piel
Huesos más fuertes
Prevención de la enfermedad de Alzheimer
Reducción del riesgo de la diabetes
Prevención de accidentes cerebrovasculares y ataques cardíacos
¿Cómo elegir el mejor aceite de oliva virgen extra?
¿Cómo almacenar, cocinar, … el aceite de oliva para que conserve sus propiedades nutricionales y aromáticas.
+ INFO
EN Below are links to places order The 7 Wonders of Olive Oil/ FR Ci-dessous les liens pour acheter le livre The 7 Wonders of Olive Oil/ ES A continuaciónlos enlaces para comprar The 7 Wonders of Olive Oil
Publicist: Familius www.familius.com
Contact: cecile@jusdolive.fr / Erika Riggs erika@familius.com
Press release / Communiqué de presse